New Epoch Speakers
History in the Making
Proudly Presents:
Ron Caswell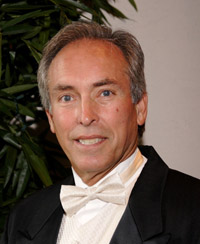 Few people in history have had the chance to share first-hand in realizing the dreams of hundreds of millions of people. Ron Caswell is one such person, and is a passionate spokesperson for the dreams of many nations. Not since the famed Guenter Wendt--the NASA "Pad Leader", who personally said the last "good luck" and closed the hatch on all Mercury, Gemini and Apollo missions--has any one person had such a broad first-hand view of the conquest of space. Ron Caswell is the 21st-century spirit of Guenter.
Every partner in the International Space Station program shipped billions of dollars worth of hardware to the Kennedy Space Center in Florida over a 12-year period. Every nation's precious cargo came under the care of Ron, who was the man empowered by the US government to care for the receiving, inspection, testing, and launch preparation of these enormous cargoes. Ron followed these key components all the way to launch, sitting in the firing room for the shuttles that carried them. These astounding contributions from the world's space programs constituted the most complicated and far-reaching engineering project in history, all under Ron's care. In Ron's key role in the road to space, he made friends with space leaders, space travelers, and engineers from around the globe, all sharing in a global vision of human destiny in the stars.
Ron speaks with the passion of a preacher, eager to connect all people with the heavens. He is also a tireless advocate of social justice, through his long-term advocacy and fundraising for women's shelters and other programs to better his community. Audiences everywhere have been elevated and inspired by his eloquent explorations of the human spirit, as seen through his decades on the front lines of social betterment on the ground and in the global conquest of space.
Back to
New Epoch Speakers